No matter how dynamically your company is developing, this can be a curse if your business is not properly prepared for the increasing scale of activity. Would you like to develop your company effectively? Then you need to ensure you have high business scalability. Software products are available to help make your company's operations smooth, even at the highest demand for your services and products.
What is scalability in business?
Business scalability is the process of increasing the production or service potential of your company. Very often it is a natural consequence of the increased demand for services or products of an enterprise. It is usually linked to growths in revenue, yet not always to higher profits. For that reason, it is worth ensuring the path to high business scalability at the onset of your activity.
There are a variety of methods for improving business scalability. In the twenty-first century the most effective ways include having a good plan for internal processes, and creating advanced software that allow relieving the company's resources (namely employees).
It is also worth mentioning the incredibly efficient Robotic Process Automation (RPA), which assumes using specialist software to perform routine repetitive tasks, in effect relieving staff. The implementation of RPA is mostly relatively straightforward as it does not require changing business operation rules. External technological solutions can relieve employees and perform serial activities faster, eliminating the aspect of human error. What is more, the relieved employees are free to concentrate on other significant tasks.
Business scalability can point to increasing the number of employees, or building and using advanced software to do more work in the company with the existing staff.
Business scalability by increasing the technological potential of the company
Companies cooperating with Stepwise are usually looking for a way to improve their operations without the necessity of regularly increasing costs. As we have extensive experience in this area, we are able to support customers in developing software that will improve your company's efficiency and reach new customers. To achieve this, we use cutting-edge technologies based within cloud services.
Software Performance, Scalability, High Availability (HA)
If a modern business needs technologies to expand the spectrum of its operations, this requires such solutions and software that enable flexible business scaling. Maintaining the highest accessibility and reliability of the applied technologies is of utmost importance in this respect, and are fully ensured by Stepwise.
At the design stage we pay attention to the external factors, market potential and individual needs of our customers. In this way, we design software that facilitates horizontal scaling, which means that in the case of computing capacity in the cloud, when your application requires more capacity, the system automatically increases the number of used instances. As far as the number of virtual machines in the cloud is concerned, business scalability can be adjusted flexibly and in real-time. This is to provide appropriate performance and make your digital product constantly accessible.
Business scaling and team enlargement
Employing more in-house workers is an alternative (or complementary) solution in business scaling. A larger number of employees or manhours will generate additional operating costs. A larger number of low-ranking employees also requires additional managerial positions. If you expect that business scaling will bring benefits, you need to strive for financial optimisation.
If you want to scale quickly, consider outsourcing. The costs of employing your own staff (recruitment, onboarding and taxes) often turn out to be much higher than is the case for outsourcing. A team of outsourced developers creating software ensures additional capacity and valuable know-how.
Stepwise finds pleasure in sharing our knowledge of optimum completion of IT projects. We know how to scale businesses by the prudent use of cutting-edge technologies. Our customers get a full insight into all the team's activities. Reliable technical documentation of a digital product, access to an IT project backlog and a dedicated Product Owner mean cooperation based on knowledge and trust. In this way, IT projects are executed efficiently, regardless of any changes in the team.
How to build a scalable business?
High business scalability is hardly ever a coincidence. How do you build a highly scalable business that will overcome even the largest bull market? First of all, initiate proper preparations at the onset of the particular company activity.
Appropriate processes planned in advance facilitate handling sudden increases in demand for your services without losing profits or reputation. When you build firm foundations and prepare relevant technological infrastructure, you can be sure that your company will survive the toughest times. How can you develop software that will help scale your business?
Workshops, UX Design, PoC / MVP
At Stepwise we support our customers in a variety of ways. We develop software from the ground up, or help you to improve existing solutions. Our first discussions and workshops are devoted to adapting the process of software development to best suit your business.
Business scalability and cutting-edge software have gained in significance in recent years, particularly during the pandemic, where technology has turned out to be more necessary than ever. Advanced development tools, messaging applications and the possibilities of cloud infrastructure have raised business scaling to a completely new level.
Cloud software proves to be effective in business scaling. Cloud computing capacity allows capturing larger network traffic. If need be, computing capacity can be increased for more challenging tasks.
No matter how advanced your digital product is, Stepwise is at your disposal. Are you in need of new software? Or maybe you already have a digital product and you want to improve or change it? We are able to scale our team to provide you with the competencies essential for a successful project completion.
Iterative development of IT projects
At Stepwise we use the agile model. We execute projects iteratively at every stage, from workshops, to design and code generation, dividing a project into smaller parts. After creating the particular software components, we analyse the suitability of the given ideas or solutions. We then exchange our results and concerns with the customers. In this way, you can make decisions that are best for your venture development and scaling. This methodology aims at discovering flaws in software products as early as possible. The earlier the evaluation of the potential of an IT project, the lower the risk of failure.
Software security development
Stepwise has always put great emphasis on software cyber security. Nearly every day, somewhere in the world, industrial properties, applications and data are victims of cyber attacks. It is enough to mention the Cyberpunk crisis, caused by a data breach, or the problems at OVH after a fire mostly destroyed the datacentre.
Providing proper security in digital products is among our top priorities. We always thoroughly check the protection of the tools and servers we use. In addition, software we create undergoes strict penetration testing by independent external providers.
Business scaling is connected with expanding the group of people who supervise the company information systems. More people in a team means more points of access to the system, which increases the risk of unauthorised access or data leakage.
As a business grows and software expands, the number of potential problems with the logics of operation, bugs and performance increase as well. Stepwise makes customers aware of these issues and, where necessary, suggests the best solutions.
While scaling business and developing software, legal regulations should also be taken into consideration. In a particular country there can be specific regulations on ensuring an appropriate level of security of digital products and online services. For example, in Europe, the GDPRs determine how personal data in developed applications should be secured. This regulation covers a variety of rules that need to be implemented during software development. Interestingly, that protection is best planned as early as the application design stage. Find out more about software cyber security.
Scalability and technology
Advanced technology tailored to your business is the essence of effective scaling. The selection of technology is significant in company development as it determines how easily you will be able to handle a sudden jump in workload in the organisation.
The market offers technologies that ensure a high level of security, yet some can impede or even make horizontal scaling impossible.
Horizontal scaling involves adding new instances of application in the cloud system when the current computing capacity of a virtual machine needs raising to maintain expected cloud native software performance. Vertical scaling means increasing the memory or disc space of a single computer instance. The biggest disadvantage of vertical scaling is the limited possibilities of expansion of the device on which the software is stored.
When we use non-cloud applications stored locally on physical virtual machines, and not on an external database in the cloud, the data of a website are stored on a local server, which means – hypothetically – that with 100 different instances of the software, you will have to manage one hundred separate local applications.
Alternatively, that data can be stored in an external database. In this way, you can make a change in all the instances at once, by changing just one place. The significance of this issue increases over time and with company development.
Not all solutions available in the market are future-proof, which is why it is worth predicting potential scenarios for your company development right at the beginning of your business activity.
Business scaling in the cloud
If you need an easily scalable application, you need an appropriate environment in which this application will run. The infrastructure of any highly scalable software must meet business requirements and deliver solutions expected by the end users. Cloud solutions offer these possibilities. The cloud allows the provisioning of automated scaling (and additional instances of computing capacity) in the event of needing additional resources (e.g. cpu, memory, requests). Aside from automated and flexible on-demand scaling, there are many other practical functionalities that can automate nearly every process in your company.
Security in cloud technologies
Providers of cloud services ensure a very high level of application and data security. Powerful teams of IT specialists develop these technologies, and regularly improve the protection. Datacentres for your data are usually dispersed over many different locations, which spreads and reduces the risk of data loss.
When a cloud service provider relieves the burden of data and application security, we can concentrate on delivering business value and the best software on the market, and you can focus on the real growth of your company profits.
The issues of old-fashioned technology
We have already mentioned the importance of appropriate technology in business scaling. Using old-fashioned technology for software development, you bear the consequences of that decision into the future, where an application may look excellent, but over time you will experience serious problems related to that limited solution.
The old-fashioned technologies used for software development:
are expensive to maintain,
are considerably more difficult to find developers for who know and want to work with old technologies,
increase costs because developers need more time to create software,
once they lose support are an easy target for hackers,
can be incompatible with cutting-edge technologies.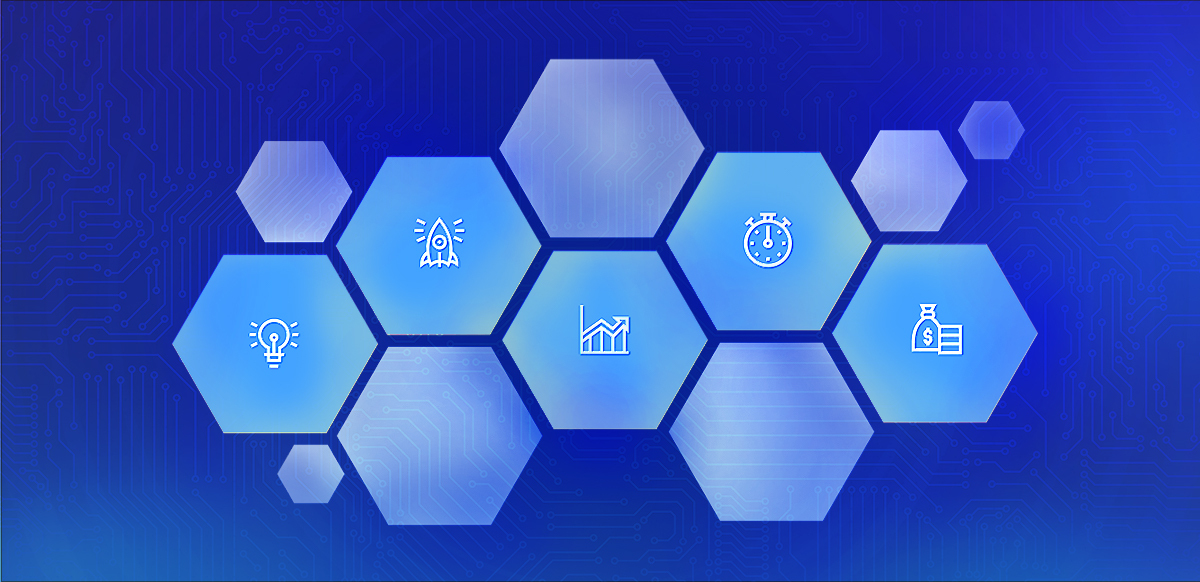 6 key factors in building a scalable business
Effective business scaling is determined by a variety of factors. Stepwise has completed hordes of IT projects in cooperation with companies from all over the world. With our solutions, businesses optimise their processes and increase their potential. Based on our experience, we have differentiated six key factors that have an influence on efficient organisational development and a high level of business scalability. We present them as best business scaling practices and pay homage to them every day. We freely share this knowledge with our customers.
6 key factors in building a scalable business:
Solid foundations
The foundations of our business decide the durability and effectiveness of internal processes and the business model itself. In the case of IT projects, it is worth using the advantages of such solutions as MVP, PoC, audit [url: article about mvp, poc and audit] and market research. The knowledge we gain this way is used to design and implement the best solutions possible.
Cooperation with people who are better than you
In business, this is not about the ability to do everything, but about selecting the appropriate partners and appreciating the knowledge of others, irrespective of employing a new worker or using outsourcing and external software houses. There is value in using the experience of others in areas we do not specialise in.
Market research and testing solutions
Before commencing an investment, at the stage of specifying requirements, it is necessary to check whether a similar solution is not already available on the market. In this situation, it is recommended to consider the worth of reinventing the wheel. There is the chance we are able to improve the existing technology. In order to validate our idea, the best solution is to prepare a Minimum Viable Product (MVP), which will help us determine whether our digital product has sense, as early as at the first stages of the project. If our idea has no chance for success, it is better to know as soon as possible.
Outsourcing of IT services
Cooperation with reliable partners and providers who help us with scaling is worth considering as outsourcing when developing digital products. An experienced software house can test an existing product, build an MVP and cast a fresh eye on the concept. We save on recruitment costs and after 3-6 months we may know whether it is worth investing in a given IT project. In the case of employing our own in house team, if a product fails and we decide to not continue, we have the problem of what to do with the employed team. With outsourcing we can flexibly change the direction of the project development and resign at practically any time.
Project documentation
We should not become totally dependent on one external provider. Stepwise makes sure that customers have constant access to the digital product documentation. This allows us to build relationships based on trust and secure the project durability. In the case of any changes, such as adding a contractor or employee to the team, it is easier to continue the project without any complications. This allows faster onboarding of new team members. We avoid downtime in code building, particularly in more complex applications.
Process automation
If there are repetitive processes in your company (e.g. sending emails), it is worth automating them. With a larger number of customers, one person in a traditional approach may not be able to cover all of the tasks or it may be time-consuming. Automation and simple tools (e.g. Zapier) allow us to delegate these activities to technology. We relieve the employee who can operate on tasks that generate profits. Robotic Process Automation (RPA) is the perfect solution in this respect. RPA involves using innovative software to perform repetitive tasks in the company, and relieve employees to do work that translates into increased profits.