The end of the year is a time of business summaries and plans for the upcoming 12 months. The past year for Stepwise has also been summarised, but in this article we would like to focus on what is awaiting the branch of custom applications and predict the most important custom software development trends for 2021. So what awaits us in 2021?
Custom software development trends for 2021: Process automation
Stepwise deals with process automation every day. We see how entrepreneurs are using the potential of automation and how it's becoming increasingly common. A lot of new generic applications that enable process automation have been developed. For this reason, some people may question the reasonability of custom software development. One noticeable trend is that entrepreneurs have hit a wall and are not offering any newer commercial solutions.
Into 2021, with the shock of the pandemic behind them, even more companies will bounce back from stagnation and will take their businesses to the digital level. Automation of business processes is of key importance for efficiency and therefore this is going to be one of the main directions of development in custom software creation.
Custom software development trends for 2021: Integration
The market offers more and more tools for nearly every corporate operation. Integration of platforms, tools and services can be supported by using a variety of languages, interfaces and technologies. Combining the best solutions is extremely important for companies as it will join all the departments of a company into an effectively working whole. Once customer needs are checked, Stepwise can make recommendations for developing software from scratch or combining the already existing technologies (or their parts). Effective client operation is crucial.
The integration of tools can be problematic for companies. Stepwise supports clients in combining and complementing their various solutions with those technologies that enhance business management. In the upcoming year we expect even greater interest in the integration of business tools, particularly within cloud services.
Custom software development trends for 2021: Machine Learning (ML)
Custom Software Development has a lot to offer in this respect as it's hard to adjust ready-made commercial solutions to specified business problems.
In machine learning, efficient transfer of data between the applications from various suppliers is blocked by internal company policies or by challenging integration. For this reason, custom solutions will be in the fore in 2021. They will enable optimum and legal use of the data and resources of the system.
Development, training and testing of ML models is tough and tedious work. To increase the productivity and dynamics of project development, at Stepwise we pay a lot of attention to research. If there are proven solutions on the market, we use them in an efficient manner. Machine learning is very trendy today and there are strong indications that this branch is going to continue developing strongly.
Custom software development trends for 2021: Blockchain
While this trend used to be really common, today it has become less mediagenic and people beyond the IT branch don't get as much information. Yet, this technology is offering a great number of benefits that will certainly be used by experienced software houses in 2021.
Blockchain ensures considerably higher data security. We can create processes that are so durable that no unauthorised person can change their history. This technology should always be used in technological processes where there's a risk of sensitive data exposure (personal data, information on financial status, confirmation of legitimacy of identity documents etc.). Those clients who need fixed unchangeable data should definitely consider blockchain.
Custom software development trends for 2021: Cross-platform (Multichannel-Omnichannel)
Nowadays consumers are driving the development of technologies and dictate current Stepwise client needs. For those companies that take the future seriously, it's necessary to develop a business model and technological solutions that will enable creating tools for various devices and operating systems.
Omnichannel has been a very popular topic in many branches (not just e-commerce) this year. The number of mobile Internet users has equalled the number of desktop users in many countries, which indicates that omnichannel and the development of cross-platform custom applications will continue in 2021. Stepwise uses the latest technologies to allow its clients to reach their customers, no matter from which location they enter websites or applications.
Custom software development trends for 2021: The Cloud
A lot of clients have moved away from maintaining their local infrastructure by themselves. 94% of businesses already use cloud services, and more than a half of those declare that in the nearest future they will increase their cloud competencies. When selecting technological partners, it's important that clients feel comfortable in the various cloud platforms.
Hybrid solutions are going to be more and more common in 2021. Migration from a local infrastructure to the cloud is a complex issue that always needs to be analysed thoroughly. Only a personalised approach taking into consideration client business needs will ensure optimum use of resources and efficient performance of the applied technologies.
Stepwise operates mainly on Google Cloud Platform services, but we are also familiar with the systems from other leading cloud service providers. We can advise on which provider ensures the best conditions for the technologies used by a particular client.
At the onset of cooperation, our software house carefully analyses business needs, estimates expenses and technological benefits, compares them, and advises if the migration is sufficiently profitable. When a company really needs cloud services in 2021, we will prepare a migration plan and implement it step by step. Find out why clients migrate from virtual machines to cloud [here] and when this process is worth doing.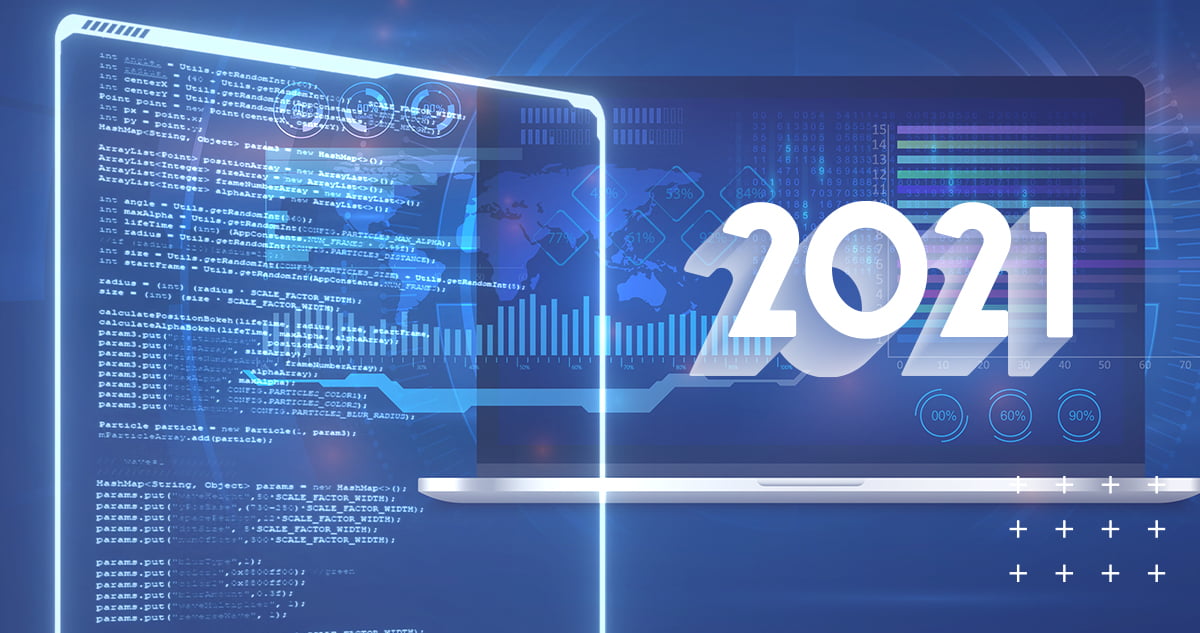 What more awaits custom software development in 2021
Despite the expected increase in commercial applications, there are still many areas where generic software won't work and custom will remain on the top forever. Apart from the most important directions of development mentioned above, if you want to stand out in the market, pay attention to a few other trends that we think are going to develop next year.
Open source
Using ready-made solutions in tailor-made applications considerably accelerates the completion of digital projects. There are a lot of arguments proving that in 2021 platforms such as GitHub will generate more projects. The quality of open source code will also increase significantly. Nevertheless, open source solutions should only be used by experienced companies. While there are many specialists among the communities creating open source, the choice of best solutions is still a real challenge.
Edge computing
Edge computing is extremely popular among individuals and companies. This year Stepwise has had the opportunity to present the solution for branches connected with property management – Digital Passport. This application has been developed for owners and managers of buildings to meet the requirements of Directive (EU) 2018/844 on the energy performance of buildings [read more here]. One of the main functionalities of this software is connecting sensors inside buildings that provide data for potential planning of energy consumption to optimise the energy potential of the property.
Edge computing considerably facilitates taking the right business decisions so it will certainly bring the attention of many branches next year.

Check out our services – we will be happy to help you with software development!