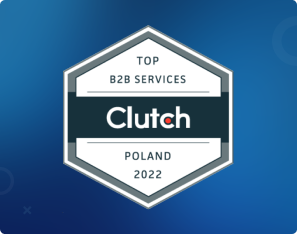 At Stepwise, we are a Software House for which people always come first – our employees, who co-create Stepwise with us, and customers who provide us with exciting and developmental projects. We love new technologies, which are the area of our specialization, but we understand that they are just tools to achieve the intended goals. […]
Read more
At Stepwise, we are a Software House for which people always come first – our employees, who co-create Stepwise with us, and customers who provide us with exciting and developmental projects.
We love new technologies, which are the area of our specialization, but we understand that they are just tools to achieve the intended goals.
With that said, we proudly announce that Clutch has recognized Stepwise as a leading B2B service provider in Poland's robotics industry.
If you're unfamiliar with Clutch, it's
a B2B research platform
for IT, marketing, and business service providers.
Clutch celebrates the highest-performing B2B companies in India annually across industries and locations. The top service providers exhibit deep knowledge in their field and a solid commitment to high-quality customer service. Receiving this award is no small feat, and we appreciate this recognition.
Our journey wouldn't have been possible without our clients' faith in us. Their unwavering support motivates us to deliver top-tier work and excellent working experiences. We are incredibly thankful to those who took the time to provide feedback on our
Clutch profile
. Here's what they have to say about working with us.
"The workflow between teams was fluent. They presented valuable products of their works – I always got more than I could expect." – Ewelina Szawlis, CEO, SFL Sp z o.o.
In addition to this award, Stepwise was featured on Clutch's sister site, Visual Objects, as one of Poland's leading IT consulting firms. Visual Objects is
a useful resource
showcasing work from top creative firms worldwide. This visual catalog makes it easy to find the right design partner for your business needs.
Send us a message
. Once we know your business needs, we can match them with the best solutions.
Need more information?
[email protected]