What is Cloud Native??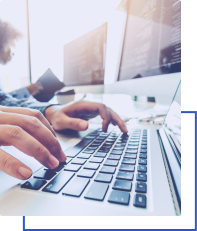 Cloud Native involves the development of innovative and easily scalable software in a cloud infrastructure. One of the main assets of this solution is the possibility to integrate the many various tools and open source technologies. It allows owners of digital products to concentrate on running their businesses and developing applications. Software development using cloud native enables taking full advantage of cloud services, also to on-premise clouds.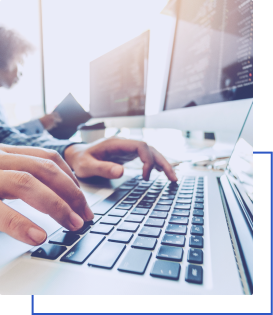 02
PILLARS OF CLOUD NATIVE
What is Cloud Native at Stepwise?
By definition, this approach is intended to accelerate the software development process, increase application efficiency and performance, as well as reduce costs related to production and maintenance of digital products.
The four pillars of cloud native at Stepwise
Microservice architecture
Applications are broken down into smaller independent "mini-applications". This approach solves many problems generated within the old monolithic attitude of an application created as a single unified unit. The new cloud native approach consists in developing software as several smaller independent services that communicate with each other but operate as one unit. If necessary, they can be relatively easily scaled, developed and arbitrarily arranged. With cloud native, Stepwise is able to build software in a considerably more efficient manner and modify the direction of development of particular functionalities at any time. Cloud native digital projects can be flexibly scaled. In addition, you can develop specific components of the system instead of the entire code, which greatly reduces time and costs.
Application containerisation
Software is packed in containers. Stepwise is able to prepare a specially designated sealed surrounding for your application. This facilitates digital project development, regardless of its environment. IT projects can be easily scalable and moved between various runtime environments. Kubernetes is an open source platform for managing the tasks and processes of containerised applications. This tool enables Stepwise to efficiently configure and automate cloud operations. Containerised applications operate independently of the end users' systems. Instead of worrying about adjusting a digital product to particular devices, you can focus on improving such aspects as UX and optimising the business model.
Cloud native applications satisfy the conditions of a continuous delivery
Applications at Stepwise are created using a development-build-test-deployment-release loop. This system significantly accelerates software development. We usually divide digital projects into two-week runs that allow us to check and correct the product development on a current basis. In a study carried out by the Cloud Native Computing Foundation, 82% of the respondents confirmed use of the CI/CD (continuous integration / continuous delivery) approach in software development. This unique method enables the dynamic development of projects in cloud native.
Native applications
In the past, the infrastructure used to be maintained by a range of specialists. It was necessary to employ additional staff such as system administrators. In the cloud native approach, applications can be managed by Kubernetes. Monitoring, uploading corrections and controlling the system specification can be delegated to machines. Kubernetes is a solution that allows for the much more efficient software management, which is why the IT specialists in your team can concentrate on the development of your digital product. Cloud native offers a wide range of proven tools for application development, data management and Big Data processing. It is worth using if you would like to accelerate work in your company and increase profits.
03
BENEFITS OF CLOUD NATIVE
Benefits of cloud native for business
Switching to cloud native is not straightforward. It is very often connected with a change in attitude toward software development. Despite more freedom in action, this methodology requires a specific discipline. For this reason, Stepwise has developed optimum cloud native project practices that can also be used by our customers (from many different sectors).
The benefits of cloud native:
Increased production capacity
Comfortable software management
Accelerated digital transformation of the company
Earlier readiness for new customers
There are so many benefits of cloud native that they should definitely be considered by those companies keeping an open mind, looking far and wide, and wanting to deliver the best services to customers possible. This impacts not only technological start-ups, but any company that uses software. Cloud native software can be developed much faster.
There is a wide array of tools that do not require building infrastructure or code from the ground up. You can use cloud services from external suppliers or create a cloud on your own servers. You have the possibility to scale digital products an infinite number of times.